Best Gaming Keyboard Under $100
Keyboards through the way recent years have come a long way. They are no longer perceived a boring slab of plastic occupying space on the desk. People have come to expect of keyboards as something functional which also provides flare to the desk. This is the reason keyboard manufacturers are shying away from the boring design language and coming up with unique aesthetically pleasing products.
Today in the market all sorts of keyboards are available. With the influx of good budget keyboards, the price for a good board with plenty of features has come down from the incredibly high ceiling. Many amazing keyboards are available today with specs and features which few years ago were only found in high-end keyboards.
With the market becoming more crowded than ever the choices available for the consumer has increased. To help you all we have compiled down a list of the best gaming keyboard we could find under $100 but before we dive into the list let us first look at some of the deciding aspects and features of the different keyboards available today.
Buyers Guide
Keyboards come with completely different shapes and sizes. There might also be other features which some keyboards may have while the other keyboards won't. It is important for you as a consumer to understand all the different aspects so that you may have a better understanding of which product may suit your need the best. With that said let us get into the different features and factors
This is relatively simple. If a product is not durable enough to hold up in the long run there in no point in buying the said item. Most keyboards these days come with acceptable build quality. The main materials used in the construction are either plastic or aluminum. In some instances, metal may also used mainly for the top plate. While aluminum reigns the king of build quality plastic these days has also come a long way.
There are plenty of good keyboards made entirely of plastic which manage to be sturdy and solid. Also, some companies cut the cost of the keyboard by cheaply putting to together no matter the materials used. So here you should look for something with good materials used for construction which are well out together.
These days many different sizes of keyboards are available ranging from 60% keyboards all the way to full size 104 keys ones. As the name suggests 60% keyboards reduce the size by removing the nav cluster, number row and function keys. To compensate for that these keyboards usually have second layering for the missing keys. Having a small footprint frees up a lot of desk space for the mouse or other peripherals. TKL form factor which eliminates the number row keys is also another popular design because it keeps the nav cluster and the function keys. These days 75% layout is becoming increasing popular due to the good balance between size and available keys. When buying a keyboard, you should evaluate on what your needs are and buy according.
Keyboards come with a variety of switch options. The main two switches to consider are mechanical switch and membrane switch. Like it sounds mechanical switches have mechanical components to the switch by which it actuates and registers click. Membrane switches are traditional rubber switches found one older keyboards or cheaper ones. They both have their advantages and disadvantages. Mechanical switches provide a nice satisfying feel but are loud and can be less smooth. Rubber switches do not have the mechanical sensation but are relatively silent.
There are also different variants in mechanical switch. The main ones being traditional mechanical switches or the newly introduced optical switches. Since optical switches use optical technology, they feel very smooth. So, if you do not like the scratchy aspect of the traditional mechanical switch then optical switch can be a great.
If you are someone on board the Rgb hype train there are plenty of great Rgb keyboards to satisfy your needs. Many featured keyboards also have dedicated software to customize effects or assign per key Rgb. Beside the typical key Rgb lighting some keyboards have additional Rgb trims like light bars around the edge of the keyboard to further add to the aesthetics.
Keycaps and key Stabilizers
These are the thing that get over looked the most. A good keycap set can enhance the overall typing experience. Also, if the keycaps are not made of high quality, they wear down faster leaving a very shiny surface which does not feel good to type on. Stabilizers also enhance the typing feel of the keyboard. A keyboard with good keycaps and stabilizers has no key wobble is more comfortable to type on.
Keyboards come in either a wired connection or wireless connection. Many cheap wireless keyboards do not have a good solid connection and tend to cause latency issues. Also, the signal is may drop when interference is introduced in the wireless spectrum. We made sure that all the wireless keyboards on your list have a good connection.
Wired keyboards also come in different flavors. The main two cable types used are micro Usb cable or Usb-C cable. While Usb-C can be said to be the future of connectivity and should be norm still the micro Usb keyboard function and perform identically. What is more important is whether the keyboard comes with a removeable cable. Lets be honest cable are prone to damage and having a removeable cable provides peace of mind and allows for easy replacement is required.
These include all the other features which a keyboard may have. They are not necessary but can enhance the user experience. These features may include extra dedicated keys like media keys, volume knob and macro keys. These provide on the controls which many users may appreciate. Other features may include software for the keyboard. Software's can be used to control virtually all aspects of the keyboard from lighting to macro assignment.
best gaming keyboard under 100 – Top 10 Product Reviews
1
SteelSeries Apex 5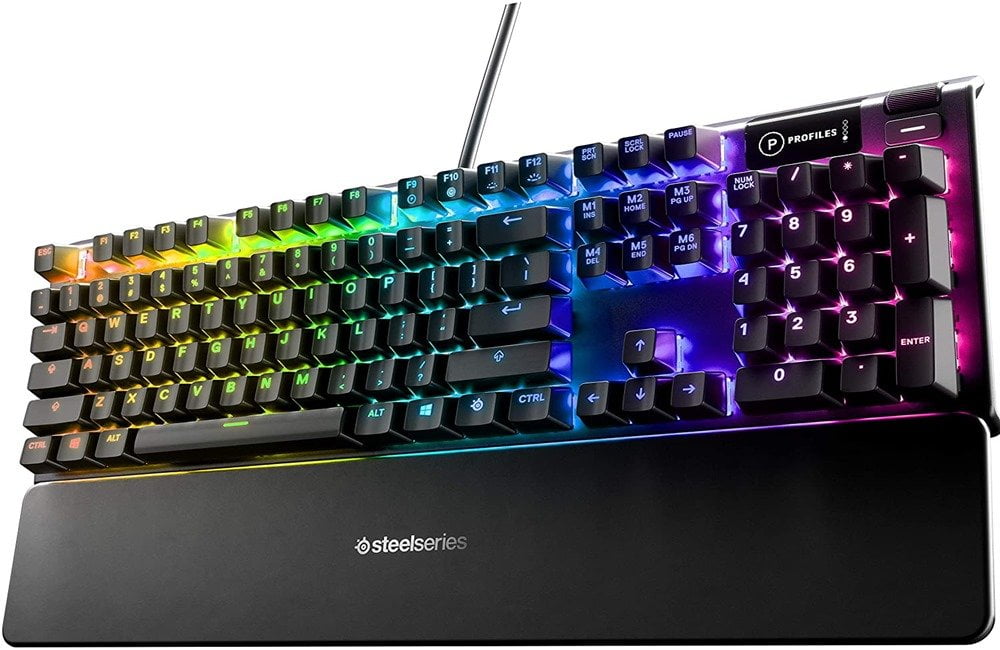 Occupying the first spot as the best gaming keyboard is SteelSeries Apex 5. This keyboard is a part of the new apex line of SteelSeries keyboards which have received a lot praise from various people in the keyboard industry. This particular keyboard is the middle of the pack offering from SteelSeries but many of the features which you expect in high end keyboards are present here.
The build quality of the SteelSeries apex 5 is very good. The frame is made from aluminium and has a lot of heft to it. There is no flex in the body whatsoever. The edges are nicely tapered off to make the keyboard more comfortable. In the package a wrist rest is also included to further enhance the experience of the user. The wrist rest is not the best but gets the job done just fine. The keyboard is powered via USB-C cable but the cable here is non-detachable. There are cable routing channels though making up for the non-detachable cable.
SteelSeries has incorporated their own hybrid switches in this keyboard. The hybrid switches have a mechanical bump like the Cherry MX browns but the actual action is membrane rather than mechanical. These however do feel really similar to pure mechanical switches. They are also very loud just like a cherry blue switch. The switches are rated for 20million clicks. Performance of these switches is very consistent like a pure mechanical switch. The keycaps have a smooth texture and are pleasant to type on.
The main highlighting aspect of this keyboard is its added features which make for a very fun and exciting experience. This keyboard features full key RGB lighting for all the RGB fanatics out there. Each key can be controlled individually in the SteelSeries software (more on that later). You can also make custom effects in the software. Assigning lighting to different application like discord, music etc is also here. The keyboard also has an OLED screen which can configured to anything you like. Gifs, stats from your games, music can be displayed on the screen which enhances the fun factor of the keyboard. The keyboard also has a smooth rotating volume wheel to make adjustments on the fly.
The keyboard also has a single easily and conveniently dedicated media button. Single button has all the functionality to control all aspects of your media like play/pause, change track which is very convenient. SteelSeries Engine 3 which is the new SteelSeries software is dead easy to use and has all the functionality you would like an a fully fledged software. It also has the ability to sync all your SteelSeries products together.
Pros
Good build quality
Good click performance and consistency
Top notch RGB lighting
Configurable OLED Screen
Dedicated media controls
Cons
Non-Detachable USB cable
The switches are very loud which may be bothersome to some people
The included wrist rest in thinly padded
Overall, this keyboard from SteelSeries knocks it out the park with its outstanding features and good performance. The RGB lighting is top notch and the clicks feel midway between a cherry blue and a brown. The funky OLED screen is fun to tinker with. This keyboard has a very few cons and none of them are a deal breaker but for some people who prefer a quieter sounding keyboard this may not be the right option for you. Besides that, this keyboard is an excellent choice.
2
HyperX Alloy Origins Core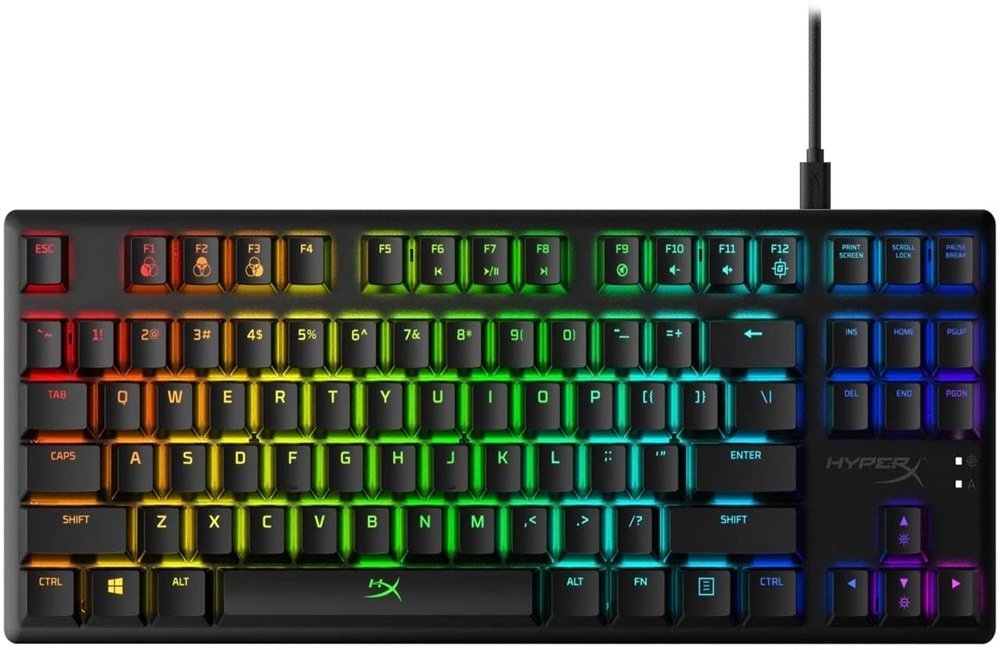 Next up in the list and runner up for the crown of best gaming keyboard is the HyperX Alloy Origins Core. This keyboard is similar to the beloved Fps Pro keyboard by HyperX while improving in areas and adding new switches and RGB lighting.
This keyboard is well put together. The keyboard frame as well as the top are made from aluminum making this a hefty keyboard. It is good rigidity and bears no flex even when pressure is applied. The edges are tapered for smooth design flow and also to provide a more comfortable grip when carrying the keyboard around. For connection a USB-C cable is used which is removeable making it very convenient to swap for aftermarket cables if required. The keyboard has Kickstands with two different positions that being low and high to provide a better ergonomic experience.
The switches provided here are made inhouse by HyperX. The HyperX red switches are reminiscent of Cherry red. They require 45-gram actuation force and actuate at 1.8mm while bottoming out at 3.8mm. Unlike the Cherry red switches these do not have the scratchiness and feel quite smooth. The switches have a lifespan of 80 million which is class leading. In games they feel very good and provide an effortless experience. The keycaps on this keyboard are double shot abs with laser etched symbols. This greatly increases the lifespan of the keycaps. The finish of the keycaps is also quite nice and they feel good to type on.
The RGB lighting on this keyboard is done wonderfully. Due to the open design of the switches the RGB from the switch capsule spills onto the plate of the keyboard in between the keycaps making for a very eye catchy appearance for this keyboard. Each key also has individually controlled RGB lighting and numerous effects can be made and assigned to the keys throught the HyperX software.
HyperX NGenuity software for some reason can only be downloaded from Microsoft Store which is disappointing. There should be an open web download version as well because frankly not everyone uses Microsoft Store. This might be something which may not bother many people but to some this is an inconvenience. The software works well though and is easy to navigate and setup. The different menus are well laid out but where this software lacks are the features which other manufacturers provide in their software which this software does not. Given this is still an early software but still they could have done a lot more.
Pros
Excellent build quality
Smooth linear switches
Good RGB lighting
Detachable cable
Cons
No dedicated media keys
The software feels shallow compared to other keyboards.
In conclusion this HyperX Alloy Origins Core keyboard is a great tenkeyless(TKL) keyboard. It has one the best linear switches in the market and the build quality is amazing. The keyboard also supports full key RGB lighting. This keyboard ticks all the marks and then some. The only feature it lacks is dedicated media controls but if that is not a concern for you this is the best TKL keyboard out there in the overcrowded keyboard space.
3
Razer BlackWidow Lite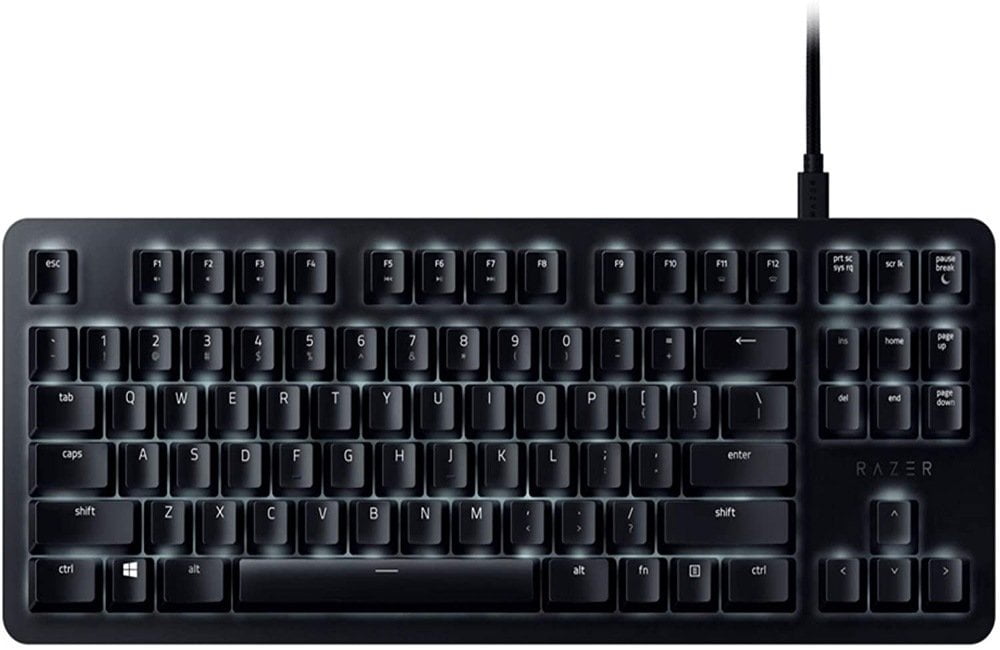 Razer have been on the top of their game lately and this keyboard is no exception. The BlackWidow Lite is basically a toned-down version of Razer's more high-end keyboards. It packs all the good essential stuff in a minimalistic and simple design.
This keyboard screams simplicity when you take it out of the box and fire it on for the first time. You realize very quickly the minimalist approach razer is trying to target. Staying true to its name the keyboard is also relatively lightweight compared to other keyboards. To achieve the low weight razer has constructed this keyboard mainly from plastic but the plastic here feels quite rigid. The keyboard has no flex or bending when pressure is applied. The upper plate of the keyboard is finished is matte finish to further enhance the feel of the keyboard.
For connection the keyboard has a USB-C plug and the cable here is also detachable. The supplied cable is braided but if you prefer something else it is easily replaceable. This keyboard as four rubber feet in order to lock the keyboard in its place and stop it moving around and it works well. There are also kickstand feet which increase the angle of attack to facilitate more ergonomic typing.
This keyboard is made with simplicity is mind so razer came out with a new silent switch design for this keyboard. Meet the new razer orange switch. This switch incorporates the tactile bump associated with Cherry brown while being a lot more silent. This is perfect for anybody looking a keyboard to use in a streaming setup or work-related setups. The switch performs with excellent consistency and is rated for a lifespan of 80 million clicks which in or par with the best of best keyboards out there. Razer has also included O-Rings to further dampen the sound of the switch if you so choose. The keycaps provided by razer are also quite nice. They are double shot and have a smooth surface. The font is also standard and overall, it looks and feels good.
Sticking to the minimalist aesthetic this keyboard only comes with white backlight keys. There is no chroma RGB present here. White lighting is where most keyboards faulter but we are happy to report that this keyboard pulls it off very well. The white backlight is uniform features the correct color temperature. It is neither too warm (yellowish) or too cold (bluish). Despite not having the chroma RGB the keyboard is still compatible with Razer Synapse software which lets you control all the other aspects of the keyboard like macro assignment.
Pros
Lightweight and portable for carrying around
Silent tactile switches
Detachable USB-C cable
Does not move around on the desk
Minimalist and simple
Cons
Plastic build leaves a lot to be desired
Lack of RGB
Some folks may find it boring
This keyboard is an excellent choice if you want something with minimalist design to fit it into any setup or work-related environment. The lightweight nature of the keyboard also increases its portability and allows you carry it around. The switches are fit in with the whole simplistic nature and are very silent while feeling good to type on. Razer has nailed it with this keyboard and it truly fulfills on its intended purpose. What this keyboard is not though is the flashy rectangular block sitting on your desk if you are fine with that there are not much better keyboards than this.
4
Keychron K2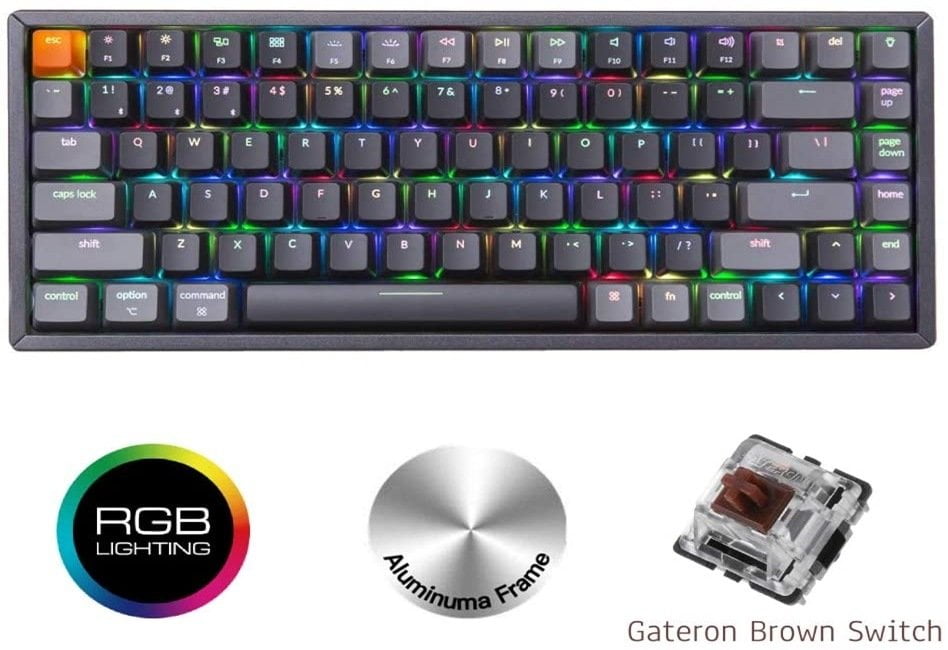 This keyboard comes from the company started by people who are keyboard enthusiast so right of the bat it sets pretty high standard for it. What is really amazing this keyboard is that it works with mac and well as windows so you are pretty much covered in most ways. This keyboard comes in a 75% form factor meaning it has 84 keys while being almost 2 columns shorter than your average TKL 87 key keyboards. This allows people to have more space for their mouse and other peripherals. This comes in very handy for FPS gamers as well as for folks with less table space.
This keyboard comes in different variants. You can buy whichever spec you like the best but we here at tweetsgames suggest to look into aluminum build case with static non Rgb white backlight. If you opt for that variant you get a solid build quality with no flex or bending in the chassis. Regardless of which variant you choose the keyboard comes with wireless Bluetooth connection but support to run directly via USB-C cable as well. The wireless connection is very stable even with mac or mobile and there is no perceivable lag present. USB-C connector for this particular keyboard is placed on the left side of the keyboard which is annoying to deal with.
The frame features a flat keyboard deck and at the bottom there are 4 rubber feet with two being flick out ones. There is only one level of adjustability with the height of the keyboard. Since the keyboard is also not angled the top keys do not have a natural position. This makes typing for a long time rather uncomfortable. The keycaps are really good though in this keyboard. They have simple legends with a nice felling texture. There are also decently thick for a mainstream keyboard and are made of abs plastic.
The switches in this keyboard are provided by gateron. You are presented with the choice of either red, brown or blue switches. While many people take gateron for another Cherry MX clones we were surprised to find that their red switch was actually smoother and less scratchy than latter. The stablizers on this keyboard are also very good and there is no rattle present in any of the keys. In terms on customization there is no software for this keyboard till now so if you happen to buy the Rgb variant there are present lighting controls which you can play around and tinker with.
Pros
Mac supported
Good build quality
Wireless Bluetooth connectivity is seamless
Good stabilizer and switch implementation
Keycaps are very nice
Cons
High top case design makes for a uncomfortable typing experience
Not enough height adjustability
The positioning of the USB-C connector is inconvenient
Overall, this keyboard is pretty much everything you would like. It even has added mac support. The wireless performance is rock solid and also it has pleasing aesthetics with the retro vide going on. The switches and keycaps are also really nicely implemented and there is no rattling or nay key wobble. This is really a hard keyboard to fault but the high-top case design makes for uncomfortable typing experience over long period of time. Its totally fine for gaming but if you are to write a lot with this keyboard then we would suggest you to pick up a wrist.
5
Havit HV-KB395L Low Profile Keybaord
At the next spot like the name suggests is a low-profile mechanical keyboard featuring kailh low profile choc switches (more on that later). It is extremely lightweight at around 500 grams and also very thin making it a portability machine. The build quality is also surprisingly good. It has an aluminum top plate with chamfered edges. On the back of the frame it has flick out feet. The frame also has a natural angle to it to enhance the comfort while typing on the keyboard. The keyboard has detachable micro USB cable for connection.
The highlight of the package is the kailh choc low profile switches. These switching are not have click bar mechanism while being very narrow. They have a total travel of 3mm while the switch activating at 1.4mm of travel. This is drastically different compared to the typical Cherry MX style switch. The switches also have two-way tactile bump. The sound of switches is crisp and high pitched. It is not annoying but rather quite good actually. While the switches are good the supplied keycaps are not a strong suite of this keyboard. They are made from thin abs plastic and the legends are laser etched. This makes to prone to losing their texture and becoming slippery and shiny. Since the kailh choc switches are not like MX switches replacement keycaps are very difficult to find for them.
This keyboard has blue lighting so no Rgb lighting is featured here. There are plenty of effects to choose from though and the brightness can also be adjusted. Furthermore, there is also a software for this keyboard which is downloadable on Havit's website. This software lets you dig deeper into the customization of this keyboard allowing you to setup macros and control the lighting exactly the way you want.
Pros
Lightweight and portable
Decent build quality
Kailh choc switches provide a refreshing experience
Cons
Micro USB cable is not acceptable today
Keycaps are of subpar quality
Lack of RGB lighting
For what it is worth this keyboard provides a refreshing experience from the typical Cherry MX style keyboard. It also has a lot going for it. Its easy to carry around and very portable. The kailh choc switches can provide a better experience if you like what they have to offer. The build quality is also decent and this keyboard can easily take a few hits. The only major gripe with this keyboard is the subpar quality. There are also other small things which this keyboard lacks but for all the amazing things it offers this is a good choice.
6
Royal Kludge RK61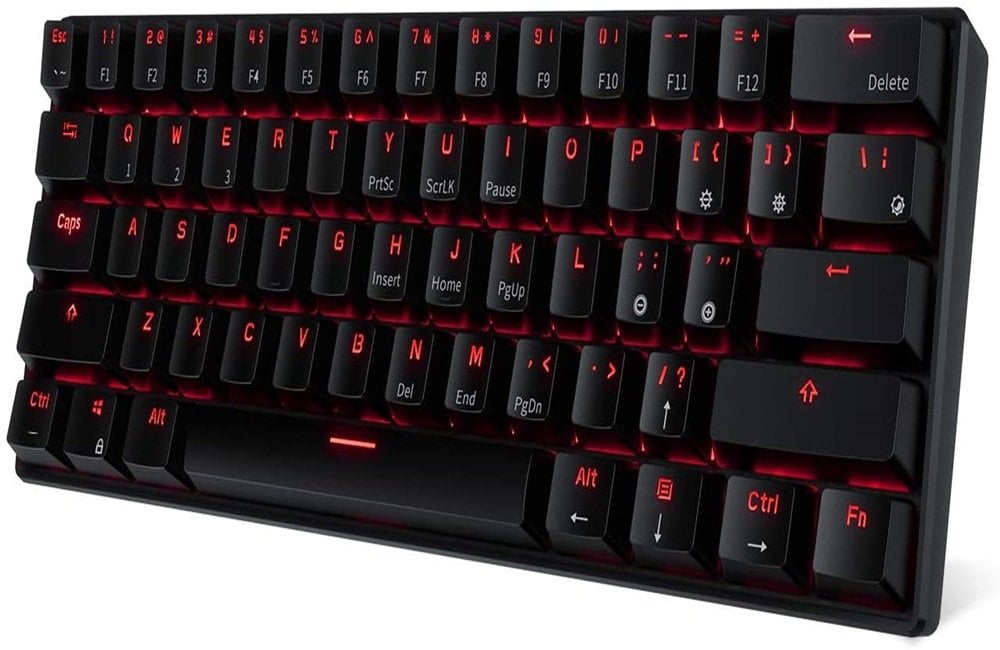 Up next on the list is a 60% Bluetooth wireless keyboard. This Royal Kludge RK61 comes with all the flashy features you have come to expect in a 60% keyboard while maintaining a good build quality and decent typing experience which similar keyboards in this category lack. This a Bluetooth wireless keyboard and the connection is solid here. The latency is low to the point where there is no perceivable lag per say. The keyboard also remembers upto 3 devices simultaneous to allow for hassle free device hoping.
The build quality of the keyboard is also decent. There are clearly some ways in which the cost is cut down like the all plastic build but the whole chassis is put together nicely. There is a little bit of flex when a lot of force is applied but in normal instances it chugs along pretty fine. The switches featured in this keyboard are gateron switches and they are available in a choice of red, blue or brown. Gateron switches are similar to Cherry MX switches and also feel pretty identical with the latter being a little scratchier than the gateron ones.
The keycaps in this keyboard are very good for the price. They are made from abs plastic and are double shot. The thickness is also more than standard keyboard. So, the keycap wear will be less of an issue in this keyboard than others. The keycap legends have the OEM gamery font which many do not prefer but atleast the keycaps easily replacement. They have standard ansi layout and are compatible with Cherry MX style keycaps. The stabilizers are also good on this keyboard. There in minute wobble present minimal rattling which is mainly present in the spacebar.
The Rgb lighting in this keyboard is very bright and flashy. There are 18 pre-configured lighting modes which you switch between on the fly. For further control over the Rgb lighting and keyboard layering ypu can download the Royal Kludge software. The software is tedious and feature set it provides is basic at best. It allows for keymapping but advanced stuff is not supported.
Pros
Wireless Bluetooth connectivity
Lightweight and portable
Good keycaps and stabilizers
Plentiful Rgb lighting
Cons
Build Quality is subpar
Key remapping is not intuitive
Royal kludge RK61 has a lot to offer considering the price of the keyboard. It has excellent wireless connectivity. The signal is solid and reliable. The gateron switches are very good and this keyboard even comes with double shot PBT keycaps. Granted it is not easy to setup to your liking but still if you are willing to get yourself entangled in the key remapping mess it is not entirely impossible. The build quality is not the greatest but for everyday use it will be absolutely fine for most people. So if you looking to 60% keyboard with all the bells and whistles then you should definetly give this keyboard a worthwhile shot.
7
DREVO BladeMaster TE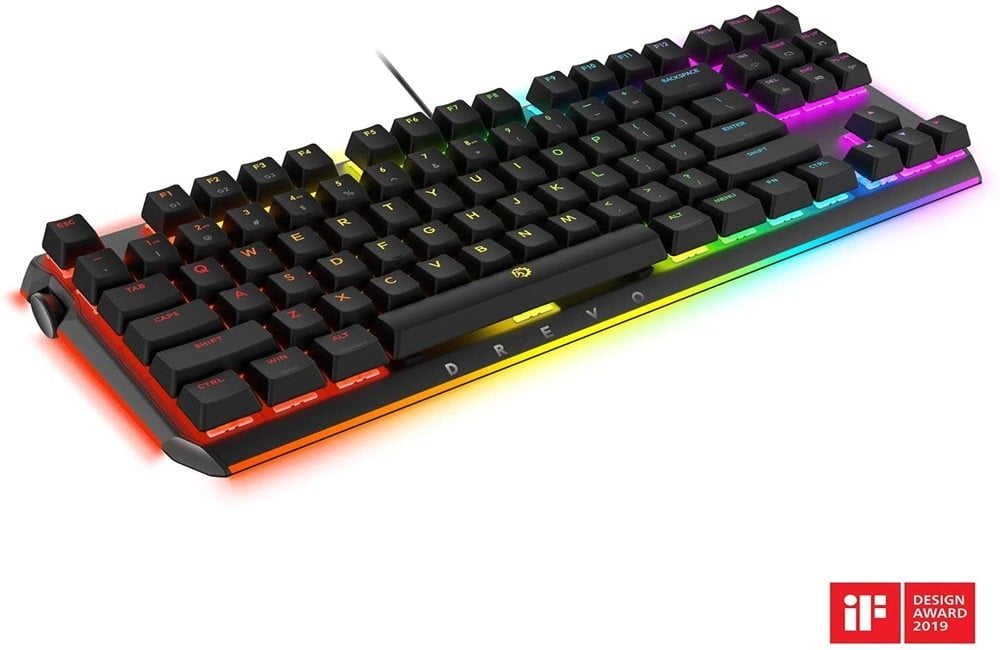 This keyboard started life as a Kickstarter project. It received a lot of backing because it provided some refreshing features and it came as a change compared all the other similar mechanical keyboards. The main highlighting feature of this keyboard is the multi-purpose knob placed on the left side of the keyboard. This knob is fully programming and there four total actions being up, down, single click and double click that can be setup to any in game command or any media function is you so choose.
The keyboard is not all knob though. The typing experience is also very good. The build quality is solid and the plate is made from metal. The rest of the body is plastic but it feels very good and sturdy. There is no flex to the keyboard when force is applied and this thing certainly does not bend. The frame also has a good angle and typing experience is very comfortable.
On the back there are 3 rubber feet keeping the keyboard in place. There are also kickstand feet which can be used to elevate the height of the keyboard. All this comes with a trade off though and that being the non-detachable cable in this instance. To further add to injury the cable is also not braided which makes it fragile to rigorous use.
The switches offered in this keyboard are from gateron. They are available in blue, brown and red. These switches feel and function similar to Cherry MX switches. The keycaps here are the typical ABS laser etched keycaps found on many gamer branded boards. These keycaps have tendency to wear down more quickly compared to PBT keycaps. The keycap legends are also prone to fade over time more quickly than double shot keycaps. The stabilizers are not good. There is a good amount of rattling and wobble.
This keyboard also has another strong point in form of its Rgb lighting. Each key has individually lit lighting and is also completely programmable through the Drevo software. There is also a 360 lightbar along the edge of the keyboard. The lightbar is fully configurable to any effect or lighting profile you may like. All the lighting is controlled in the Drevo software. The software is also used to control other bits of the keyboard like Marco mapping etc. The knob is also controlled and programmed via this software but the remapping of the actions is glitchy and very intrusive.
Pros
Refreshing design compared to other keyboards
The knob is fun to play with
Rgb lighting is flashy and plentiful
Good build quality
Cons
Non-detachable cable
Stabilizers can be better
Reprogramming the knob can be glitchy
Abs non double shot keycaps
This keyboard is an excellent choice for anyone looking to get a TKL keyboard but does not want to sacrifice the functionality of dedicated programmable keys. The Rgb lighting is also done well in this keyboard. The light bar adds fun little customizability to the mix. The build quality is also good and the keyboard is durable enough to take a couple hits. The only major gripe associated with this keyboard is the situation with the stabilizers. The stabilizers are not bad by any mean but they have rattle present to them. While this can be fixed by lubing the stabilizers still this adds more toll on the user to get the keyboard up and running perfectly.
8
Dierya DK61E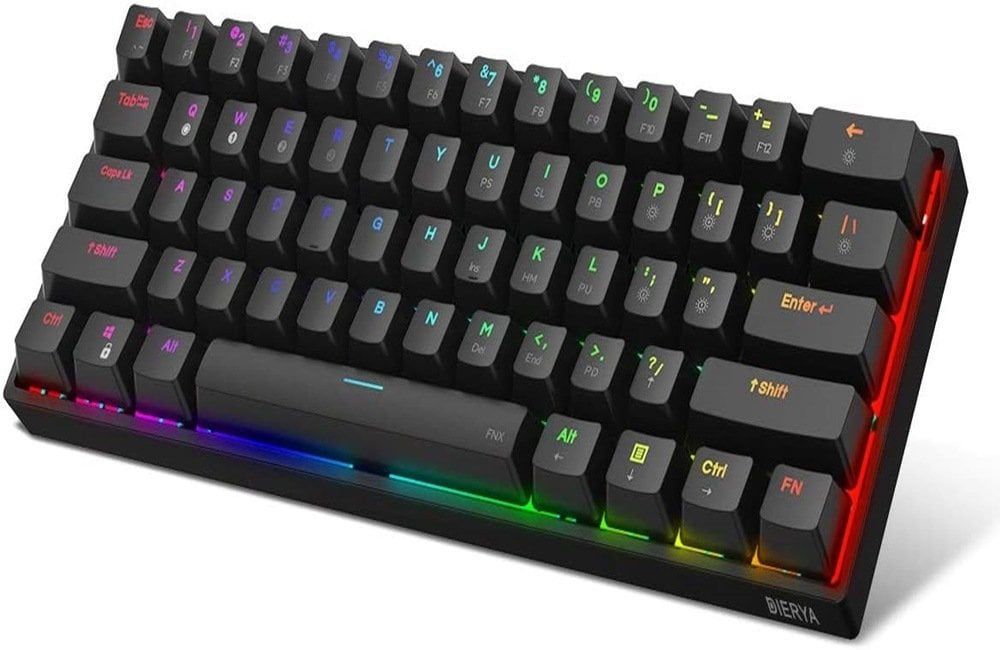 Coming up next in the list is another 60% keyboard. This Dierya keyboard combines a plethora of features in a fair asking price. The build quality is where this keyboard cuts cost though to retain the budget price tag. It is made entirely of plastic though to their credit the keyboard when placed on the desk feels fine but when the chassis is exposed to pressure it exhibits some flex. The case also has no flip out feet but what it has though is the natural inclination in the case. Though this inclination may work but some people may find it difficult to type comfortably on.
The switches are a strong suit of this keyboard. Dierya DK61E has gateron optical switches. These gateron optical smooth are very smooth and consistent. Being optical they have little to no scratchiness. This keyboard also has gateron hotswap sockets. This means that switches can be replaced with other compatible ones without having to solder each switch. This gateron hotswap socket is only compatible with gateron optical switches and other switched like Cherry MX won't fit. The gateron optical switches also sound similar to Cherry MX switches without the scratchy and pingy noise.
The keycaps implemented in this keyboard are also nice. They are double shot PBT keycaps meaning the legends are a separate layer of plastic to them. This makes the keycaps very durable for use over an extended period. The stabilizers are also decent with no rattle or wobble present in the keys. Due to the this being a 60% keyboard there are many keys which are not available. Where this keyboard seperates itself from other budget 60% keyboards is the excellent layer implementation on this keyboard. The spacebar doubles as a magic function button. This is normally found on high end boards but somehow this feature manages to trickle its way into this Dierya.
The Rgb lighting on this keyboard is controlled via the available keymove software. At first the keyboard is confusing and not intuitive at all. But after using it for a while it starts to build up on you. As for the functions the software allows to configure lighting effects as well as to assign per key Rgb to any of the keys. There is also Macro and key action programming built into the software. Overall, the software does all the basics quite well while falling short for advanced features and mapping. If you do not want to use the software the keyboard has built in effects which you can toggle to change the Rgb lighting to your preference.
Pros
Optical switches are very smooth
Removeable cable
Double shot PBT keycaps
Good stabilizers
Rgb lighting is plentiful
Cons
Build Quality is subpar
No flip out feet to increase elevation
Software is tedious
As far as 60% keyboards go this provides the best at a fair price. Sure, there are some keyboards which are better than this but they cost way more. Also, this does pretty much everything you would like to do. The build quality is plastic but this allows the keyboard to be very portability and easy to carry around due to it being lightweight. The gateron optical switches are good and the keycaps and stabilizers are also nice. If you are looking to get into 60% keyboards this is a good place to start your journey.
9
Corsair K57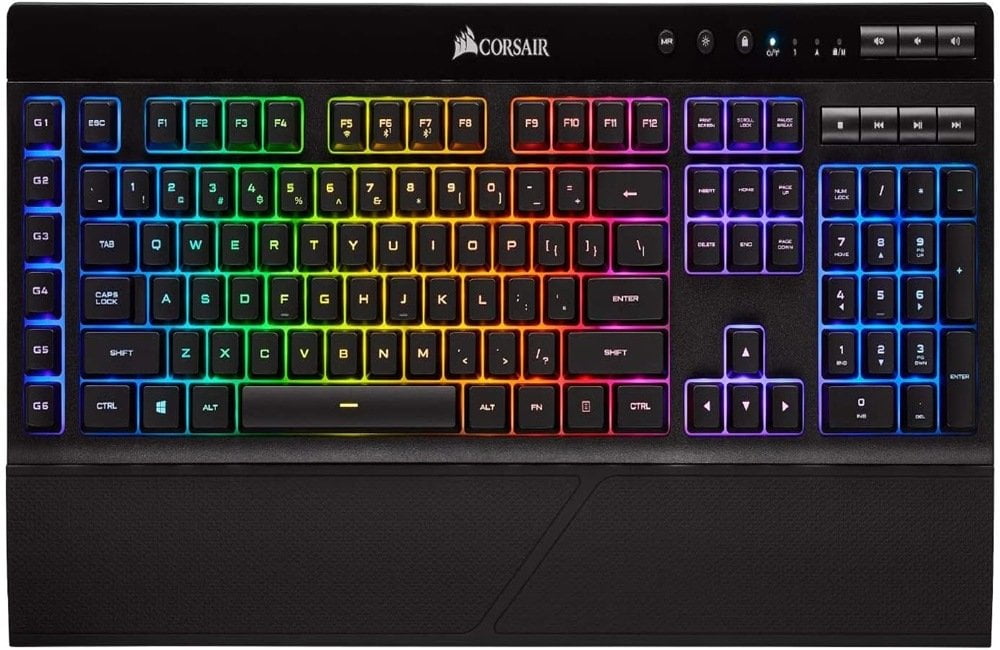 This keyboard is an updated version of the beloved corsair K55 with new slipstream wireless technology. The build quality is still plastic like the previous model. There is a glossy plastic insert on the top of the keyboard which attracts a lot of smudges and fingerprints. The frame has rubber pads which keep the keyboard glued to the desk also the two integrated kickstand feet provide height adjustment. This new wireless Bluetooth technology from Corsair has excellent performance and efficiency. Being efficient the keyboard is rated for 30 hours of use by corsair before require a top-up. The keyboard can be connected to other devices like mobile phone and device connection can be switched on the fly.
The keyboard has medicated media keys with volume wheel for adjustment on the fly. There are also six programmable keys on the left side which can be bind to any action which you choose. The keyboard is also dust and spill resistant. This keyboard has corsair rubber dome switches. There switches are traditional membrane switches with switch mount Rgb lighting. These switches provide a lackluster experience when put up against mechanical switches but some people may prefer the hollow feel of the switches. These switches are also silent when compared to mechanical switches. The keycaps also feel nice and have the typical corsair font which can be a bad or good thing.
The lighting on this keyboard is amazing. The new corsair capellix Rgb lighting is bright and flashy. The light from the switched bleeds onto the frame. Each key has individually controlled Rgb lighting which can be controlled and programmed in Corsair ICue software. In the ICue software all the other aspect of the keyboard can also be controlled and configured. The software is user-friendly. Menus are well laid out and navigation is easy. Assigning and binding keys is easy and configuring Rgb lighting is also intuitive.
Pros
Bluetooth wireless connection is solid
30-hour battery life
Dedicated media controls
Six fully programmable buttons
Rgb lighting is one of best
ICue software is well laid out and easy to use
Cons
Build quality is subpar
Glossy trim on the top of the keyboard gets scratched easily
Membrane switches
Corsair has always maintained a good reputation in the keyboard space. They make good keyboard at a fairly competitive price and this keyboard is no different. Sure, there are keyboards out there which can more value per money but if you are looking for a reliable keyboard from a reputable mainstream brand this is the way to go. This keyboard is also no slouch either and packs a good number of features. If you can look past the not so good membrane switches and plastic build quality this keyboard will serve your needs just fine.
10
Razer Ornata Chroma V2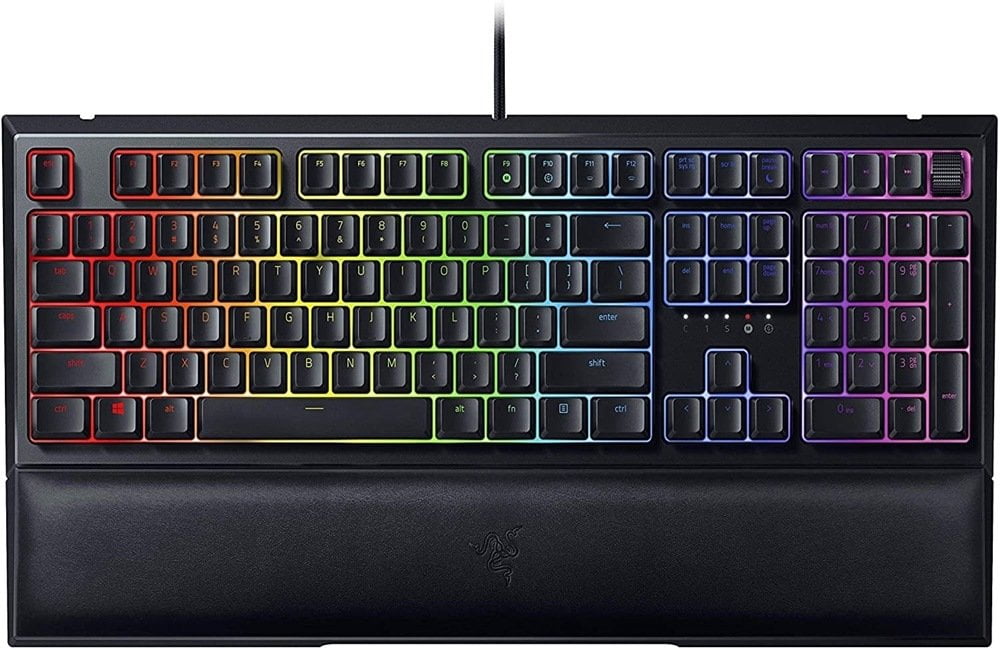 Razer has been on spree lately updating all their existing line of gaming peripherals. Razer Ornata Chroma V2 falls into that. The new V2 version features improvement to all the aspects in which the original fell short while retaining the good bits which were present in the original Ornata. The build quality of this new keyboard is similar to the original ornate. It has plastic construction for the frame and plate. Being plastic this keyboard susceptible to minor flex.
The back has rubber feet to help lock the keyboard in place and refrain it from sliding around the desk. The keyboard also has flip out feets on the back increase the height of the keyboard if needed. Razer has also provided a wrist in the box if you fancy using it. There are dedicated media keys also present with the inclusion of a volume knob as well. Unfortunately, the cable is still non-removeable here which is a let down since even cheaper keyboards these days come with a detachable cable.
The switches in this keyboard are still mecha-membrane switches. They feel like mechanical switch but the actual actuation mechanism is still membrane. These switches still manage to provide a good bit of click tactilicty. They also sound low pitched compared to Cherry MX switches so if noise is your concern these might be worth a shot. The keycaps are made from abs plastic and the legends are laser etched. The keycaps have a matte finish with clean font. They feel very nice and are a pleasure to type on. Unfortunately, key wobble is a big issue in this keyboard. The stabilizers from the factory are not good at all. Apart from stabilizers even the normal keys like arrows keys have a good bit of wobble present.
The lighting is the typical Razer Chroma and you cannot fault this keyboard here. The Rgb illumination is bright and reflective. This keyboard is compatible with Razer synapse software which is the best in the business as far as keyboard software's go. The software is inituitive to use and the menus are very well laid out. Configuring macros or tuning the Rgb to your liking is easy and hassle free. It also allows the users to make lighting effects and save them to the keyboard.
Pros
Dedicated media keys with volume knob
Switches are not the loudest
Bright and tasteful Rgb lighting
Cons
Non-detachable Usb cable
A lot of key wobble present
Competitors offer more features in this hybrid category
Razer has done good number of changes to make it keyboard a better buy but still the fundamentals of the keyboard are not done right. The keyboard still has subpar build quality compared to rivals and the key wobble is horrible. We can only recommend this keyboard if you want a specifically a Razer keyboard or are looking for bright Rgb lighting then this might be an appealing option to consider.
Conclusion
Like all other peripherals keyboard is also a personal choice. There are plenty of keyboards available which cater to a certain style of individual. 60% are great for competitive gaming since they occupy a fraction of the space a traditional keyboard would on your desk. They are easy to carry around as well. Likewise, standard keyboards can offer additional keys for people who want to get work done. TKL keyboards are a good balance between the two.
In the market today there are a plethora of keyboards available all offering something different than the other to the user so It is up to the user to evaluate his use case scenario and buy the keyboard which fits him the best. We at Tweets Games have picked the best keyboards under $100 we could find with each offering something for someone. We hope that you will find this useful and it will help you make a better decision.